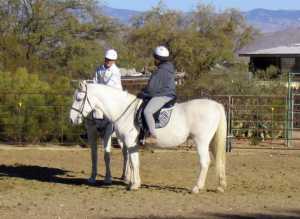 Overview | Application | FAQ
Overview
Has a herd of horses shown up in your novel and insisted on staying for the duration — and you've never been close enough to a horse to touch it?
Are you writing a fantasy or historical or a contemporary novel set where horses are the main mode of transportation — and you want to get it right but you don't know where to begin? Have you had some experience with horses but your latest project needs specific facts and figures that require in-depth, hands-on experience?
Author Judith Tarr and DHF Lipizzans near Tucson, Arizona invite you to spend up to a week at the farm. Observe and participate in the activity of a working horse farm, with discussions and hands-on experience related to your specific needs and projects. Relax in the quiet of the Arizona desert; enjoy a peaceful and productive writing retreat with hot and cold running Lipizzans. All levels of horse expertise welcome, from zero to advanced. Further details here: http://dancinghorse.livejournal.com/319754.html
The farm is 20 miles southeast of Tucson and just minutes off I-10. We are 25 minutes from the Tucson Airport and two hours down I-10 from Phoenix Sky Harbor.
Rates Rates begin at $375 per person for 3 days/2 nights, and include food and lodging in farmhouse accommodations with choice of two double rooms and shared bath. Third night $75 per person; additional nights $50 per person per night. The most popular package is 5 days/4 nights. $200 deposit per person secures your dates; remainder due 60 days in advance.
Payment by check to:
Judith Tarr
PO Box 429
Vail, AZ 85641
or PayPal to capriole@gmail.com (please add 5% for PayPal). We also accept credit cards through PayPal.
---
Application
Please copy and paste the following into an e-mail and complete.
Name
Address and phone
EMail
The following questions will help us tailor the weekend's schedule and events to your needs.
Have you had any experience with or exposure to horses? If so, please describe:
Do you have specific questions to which you would like answers?
Does your project have a specific equestrian or equine focus?
What information can we provide that will make this weekend most valuable to you?
In addition, we like to make sure our campers are as comfortable as possible.
Do you have any food allergies or aversions? Anything you cannot or will not eat? Are you on a special diet? Please specify:
Are there any special needs or medical conditions of which we should be aware?
There are cats and a dog in the house. We have an animal-free room, but the very allergic may wish to consider this before booking.
---
FAQ
What should I bring?
Bring a hat with a brim, sunglasses, and lots of sunblock. We also recommend good moisturizers, a water bottle if you have a favorite, and a notebook and pen. We do not recommend bringing your laptop or netbook down to the barn — dust and hay are not friendly to delicate techno-innards — but we have free wi-fi in the house.
What should I wear?
The farm requires that all campers wear sturdy shoes in the barn and around the horses. No sandals, open-toed shoes, or dress shoes. Running shoes are a good option. We also ask that campers wear long pants (jeans are best). We recommend long-sleeved, lightweight, light-colored shirts and the above hat-with-brim. Campers who ride will be required to wear a riding helmet — we have one or two available for loan. If you will be riding, you will need sturdy boots or shoes with a low heel (running or walking shoes will not be do for this unless they have a heel), and well-fitted, sturdy jeans or leggings.
Can I bring the kids?
The Camp is not set up for daycare or babysitting. We will accept children aged 12 and over if they are able and willing to participate in the Camp. (Yes, you can bring your horse-mad daughter!)
What about liability?
All Campers will sign an Equine Activity Release.
Can I help with the horses?
If you want to wield a pitchfork, we'll be happy to hand you one. We do ask for liability reasons that Campers not go in with the horses at any time unless accompanied by someone from the farm; however there is plenty of room to park your chair and watch the horses from outside the fence.
May I sketch or photograph the horses?
Sketching is welcome. We ask that photographs not be posted publicly or sold professionally without permission. However if you ask, we will nearly always be happy to oblige.